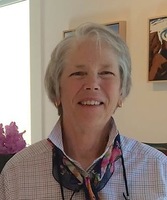 Suzanne takes long walks, most often in places near the sea. She makes drawings, takes notes, and searches for visual ideas that communicate arrangements of elements in space and luminous light that she feels deeply connected to. With a visual and sensual interest in rugged working harbors and ever changing tidal environments at the edge of the sea, Suzanne works in watercolor, and mixed media collage. In her studio, she searches inventively with line, shape, color, texture, and value as she suggests the spirit of landscapes that she feels most connected to. She is currently represented by Carver Hill Gallery in Rockland, Maine, Cynthia Winings Gallery in Blue Hill, Maine, Cove Gallery in Wellfleet, MA, and Archipelago - The Island Institute in Rockland, Maine. She teaches workshops in Truro, MA, Nantucket, MA, Stowe, VT, and other New England locations, as well as in her Guilford studio. Suzanne is also available for local and distance art mentoring for individuals at any level.
Statement
My process must keep me curious. I begin in a state of searching and wondering, of not knowing, and constantly asking "what if?". As a piece progresses, I aim for a satisfying balance between spontaneity and intentionality, freedom and
structure, chaos and rationality.

Outside of the studio, I feel the most alive in places near water. I spend a long time looking, drawing and writing, intently observing shapes, values, textures, and colors, along with the beauty of light and how it influences and constantly changes everything. In the studio, I refer to my field drawings, notes, and memories, along with possibilities of the materials I work with. I aim to transport myself and the viewer into a moment of surprising and unknown beauty, toward a higher state of being.