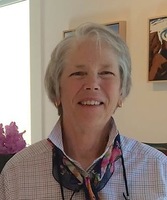 Suzanne takes long walks in places near the sea, searching for visual elements that excite her eye and mind. With a keen interest in such disparate ideas as rugged working harbors, tidal environments, visual data, and Amish and improvisational quilts, Suzanne works out her ideas in watercolor, for mixed media collage, using papers and other materials that she hand paints and inventively arranges. shapes of color, texture, and value. She is currently represented by Carver Hill Gallery in Rockland, Maine, Cynthia Winings Gallery in Blue Hill, Maine, Cove Gallery in Wellfleet, MA, and Archipelago - The Island Institute in Rockland, Maine. She teaches workshops in Truro, MA, Nantucket, MA, Stowe, VT, and other New England locations. She conducts workshops in her Guilford, CT studio as well. Suzanne is available for local and distance art mentoring, for individuals at all levels.
Statement
Color is my muse. My process must keep me curious as I begin in a state of searching and wondering, of not knowing, and constantly asking "what if?". As a piece progresses, I aim for a satisfying balance between spontaneity and intentionality, freedom and
structure, chaos and rationality.